Claudia Ramirez Islas
she/her/hers
Assistant Dean of Students & Director of Intercultural Relations
847-735-5204
cramirez@mx.lakeforest.edu
Claudia Ramirez Islas serves as the Director of the Intercultural Relations Office. As the Director, Claudia Ramirez Islas helps facilitate intergroup dialogue on themes related to identity development, social justice education, diversity, systems of oppression and best inclusive practices as we strive for a more inclusive and more accepting campus climate.
Claudia graduated from Lewis & Clark College with a Bachelor of Arts in studio art with a mathematics minor and graduated from San Diego State University with a Master of Arts in postsecondary educational leadership with a specialization in student affairs. Driven by a passion for social justice education, Claudia prides herself in constantly creating safe and inclusive spaces for individuals to freely express themselves and share their stories of strength and resilience. As a proud Latina, Claudia uses her identity and culture as a way of self-expression that is embodied not only in her work with students but also in her work as a social justice educator, artist, activist, and community member.
Claudia has facilitated and led various workshops at the regional and national level, across different institutions and organizations like the National Association for Student Affairs Professionals (NASPA) and the National Conference of Race and Ethnicity (NCORE). Claudia has consistently utilized creative mediums, like the arts, to engage others more deeply and fully on relevant and pressing issues impacting underrepresented communities and students during the current political and social climate.
Claudia has utilized her identity, experience, knowledge, and story to influence and contribute to the diversity and inclusion of all community members at every institution that she has been a part of. She has been intentional in giving back to programs and services that have historically supported underrepresented and marginalized populations like the NASPA Undergraduate Fellows Program (NUFP) and has formally mentored different students as they navigate predominantly white spaces within higher education.
---
First Connection Coordinators

Annmarie Buabeng
Major: Chemistry and Pre-Med
Born: Lake Forest, IL
Pronouns: she/her/hers
Extracurricular activities/hobbies:
Dancing and singing
Fun Fact: I am a first-generation American,
and my family is originally from Ghana in Africa.
Monia Alhel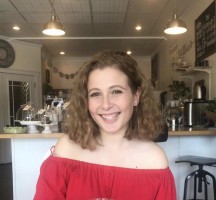 ou
Major: International Relations
Minor: Sociology and Anthropology
Born: Gaza, Palestine
Pronouns: she/her/hers
Extracurricular activities/hobbies:
Creative writing, Poetry, Content Creation Club.
Fun Fact:I travelled to 16 European
countries in the 2 months!
---
Student Workers
Kaihan Rahimi
Major: Political Science
Minor: International Relations
Born: Kabul, Afghanistan
Pronouns: He/him/his
Extracurricular activities/hobbies:
Soccer, Table Tennis, Flamenco Guitar.
Fun Fact: I've only been in the States
for a year and a half, but I have visited 16 States.