In This Section:
If I uploaded my video to Panopto through Moodle, where do I find it?
In your Moodle course page, choose a Panopto assignment. It will look like this on the course page:

In the assignment, you'll see a screen with videos your professor has shared with the whole class. Above the videos are assignment folders where you submit your projects for the professor to review. Videos in the assignment folder are only visible to you and your instructor.

If you don't see your video in your course's folder, click


at the right to open Panopto in a separate window. Select Browse and then My Folders to look through all the folders you have access to. If you remember the name of your video, you can search using the Search my folders…box.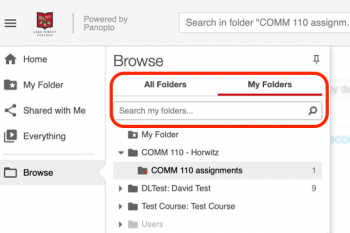 How do I add Panopto into my Moodle course?
In your Moodle course page, select Turn editing on. In the Add a Block box, choose Panopto.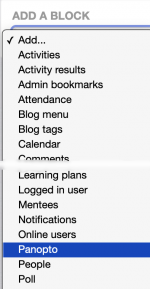 To allow students to upload videos for assignments, choose

Select Panopto from the list of activities, and choose Add.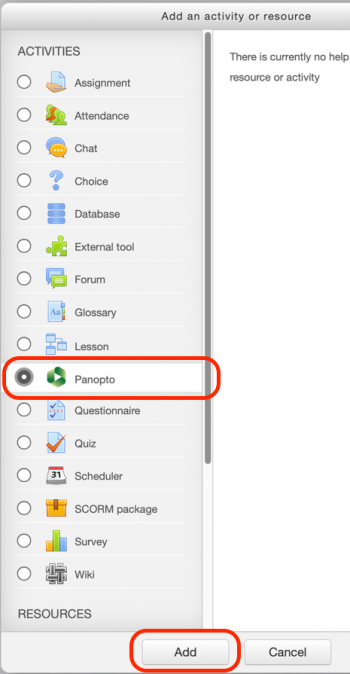 In the Adding a new External tool box, add a name that describes the activity. Do not make any other changes in this box.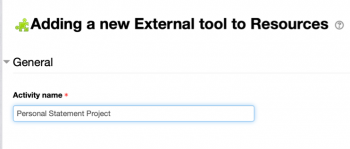 Choose Save and display. Moodle will open a window that displays your course's Panopto folder.


To make videos available for students to view, choose the red Create button and select Upload Media. Choose a video from your computer. Instructors can add movies to a Course's Panopto page—students can view them but not remove them. For videos found on the web, either download to your computer, or add as a URL directly within Moodle.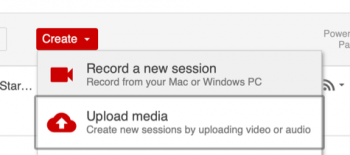 To make an assignment where students may submit a video, go to Settings

. In Overview, choose Create Assignment Folder. This will make a special folder that students can each upload into, but students cannot see each other's work.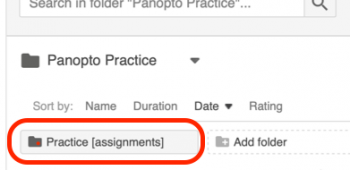 In an assignments folder, instructors can see all uploaded videos. To share videos with the entire class, select the video, and choose Move.


Choose the main course folder from the list.


Organizing Videos into Folders
To organize a list of videos in folders, press the Add folder button.

Type in a name, and press Enter.


The new folder will appear on the list above any videos.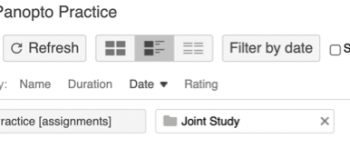 Add as many folders as you need. Select the videos, and use the Move button to change their location (see above).
Creating multiple video assignment folders in Moodle that link to Panopto
For multiple assignments, use the Add folder button to create a new folder for each assignment.

Give each of the new folders an appropriate name that reflects the assignment. Within each of the new folders, create its respective Assignment folder (Go to Settings

, and then in Overview, choose Create Assignment Folder). On the Moodle course page, add as many Panopto activities as you need. Each Panopto activity will link to the course page, where students will see all the folders and assignment folders. Students will pick the folder that matches the assignment, and upload their videos into it. To prevent a student from uploading into an assignment folder, go to Settings, and then choose Close under the Assignment Folder. Instructors will be able to view all work in the folder, but students will not be able to make any changes.


Note Panopto assignment folders do not support due dates, etc as in Moodle.
Video guides
All Videos